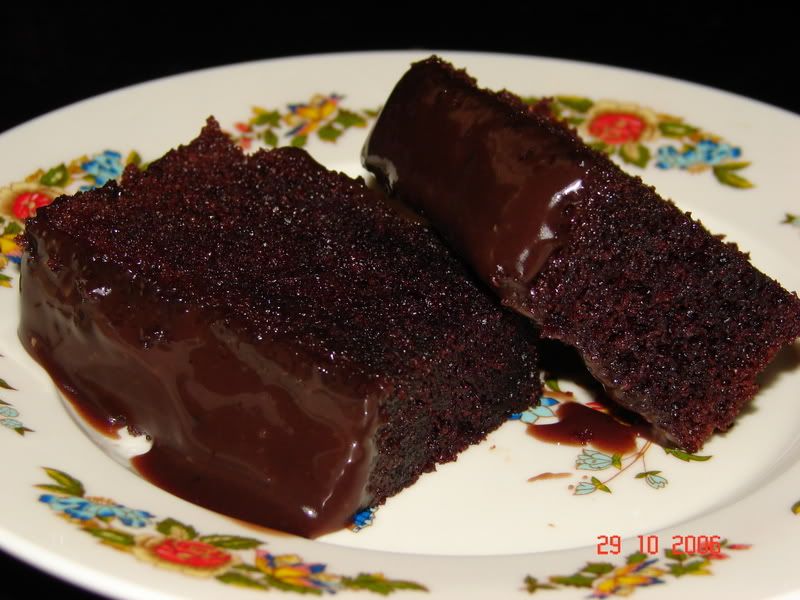 Ingredients:
170g (6oz) Margarine
170g (6oz) Caster sugar
110g (4oz) Self Raising flour
85g (3oz) Drinking chocolate
3 Eggs, well beaten
1 tbsp Hot Water
Buttercream Filling
110g (4oz) Icing Sugar
50g (2oz) Margarine
50g (2oz) Drinking Chocolate
Water or milk, if required
Glace Icing
170g (6oz) Icing Sugar
50g (2oz) Drinking Chocolate
2 tbsp Hot Water to mix (approximately)
Preparation:
Pre-heat oven to 180°C: 350°F: Gas 4
Grease and line two 8 inch sandwich tins.
Sieve together the flour and drinking chocolate.
Cream the margarine and sugar together until light and fluffy.
Beat in the eggs, a little at a time, adding a tablespoon of the flour mixture to prevent curdling.
Fold in the remaining flour and chocolate mixture and stir in the hot water.
Place the mixture into the tins and smooth the tops.
Bake for 25 minutes or until the surface springs back when pressed lightly.
Remove the cakes from the tins.
Allow to cool on a wire rack.
Buttercream Filling
Mix all the ingredients together until smooth and light.
Spread on one of the cakes and sandwich together.
Glace Icing
Add the hot water to the sugar and the drinking chocolate to form a thick paste and coat the top of the cake before serving.
Use a knife dipped in boiling water hot to spread the icing.
Serves 4-6